Discussion Starter
·
#1
·
The weekend of 26th to 28th May 2007 Jules77 (Jules), Kanga (Alice) and I (Si) put ourselves through a beasting by Lord Mark Powell of TDI-shire. It was a fantastic weekend from the moment I got there, to the moment I bid farewell to the team and left Winchester Services on the way home!
The plan was to leave work a bit early and head straight down to Weymouth to meet up with Jules who Mark and I would be crashing with for the weekend…. Traffic had decided that I was to alter the plan somewhat! 1 hour and 45 minutes after leaving work I had travelled 8.5 miles!!!!! The 180 mile journey wasn't going well! After hearing of 60 mile tail backs on the M25 I decided to give up and get up in the early hours to head down instead.
Day 1
The day started at a VERY rude time… 0300 the alarm went off and by 0330 I was on the road. A lovely empty road allowed me to whiz along. A short break at Winchester services to dose up on caffeine saw me arrive at the Aqua Hotel at 0615. I kitted up in preparation for the start at 0800!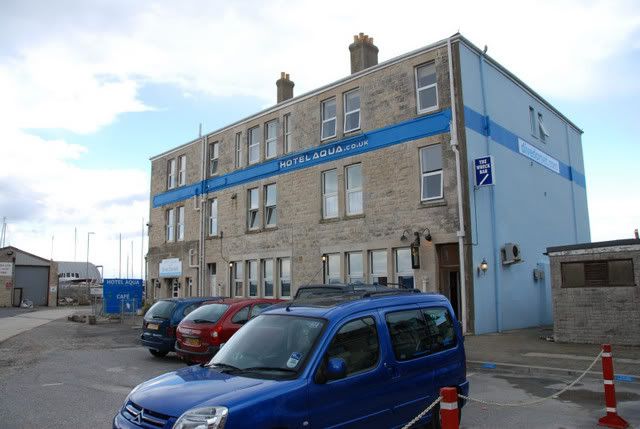 After the usual paperwork had been completed and cheques scribbled out I met my buddies for the course Jules and Alice. From our pre-course message swapping I know we'd get on, didn't realise what a hilarious time the whole weekend would be though with more innuendo than you could poke a large, purple headed, throbbing stick at!!
The structure of the course was that we would be doing 2 dives per day and in between we would get fills and do theory as appropriate. The boat was due to go out at 1000 and then not until 1700 so there was plenty of time to get through a big chunk of theory and show that we had done our homework.
First dive was just a check out dive on the dredger (Tim's Dorset Dive Site Reports) to show how we all were in the water and how our buddy skills were. The plan was to just descend to 6m, do a bubble check and S-drill and continue to the bottom ./ Potter about as a team for a little while and doing a shut down before sending up a blob and ascending to a 6m stop and performing a gas switch. I was to be showing off my use of my spool after some discussions on what kit we all had.
The first part of the plan was successful and we descended…. It was only after this that it didn't go entirely to plan. We finned around for a little while with random buoyance skills before Mark pressed my reg purge to signify a freeflow. As I dive Indies I just swapped regs and, to show I could, I shut down the right post, left it for a short while before opening it again. The rest of the team did a similar drill with various successes, due to less practice and Jules having a mattress and fold up bed (massive custom divers wing and a quick release cylinder latching system) between her and her twins a shut down was out of the question. (or maybe short arms were the problem??)
It was then that visibility got too much and all of a sudden Alice and I were alone with no idea of where Mark or Jules were. We looked around for a minute before I sent up an SMB and we ascended to perform our stop and gas switch, all according to plan!
Plenty of material on that first dive to discuss in the debrief and so it began with the phrase that can strike fear into the hearts of the most hardened technical divers………. "So…. How do you think that went?" The most accurate phrase to describe it was "All arse and no class" We finished the debrief out in the sunshine whilst waiting for lunch to arrive.
Whilst nibbling we took part in Alice's interesting game of "Tell me 3 facts about yourself" There were plenty of interesting facts but the best one by far HAD to be that Jules had worked in Sydney as a "Hooker Booker" arranging appointments for 'gentlemen' to visit ladies for erotic pleasures. Nice!
Mark skilfully used this to move the theory session on to DCS and 5 min neuro exams and gave Jules the opportunity to molest me whilst inserting as much innuendo as possible. I don't remember a test that says close your eyes and open your mouth??? I guess in all it was a fair test to see if I was bent. I wasn't and actually quite enjoyed it! Thanks Jules!
CNS signs, dealing with toxing divers, choice and benefits of deco gas. Before long it was time to kit up again and try to put the plan into practice.
Dive 2 – We were aiming to massively improve our buddy skills on the last dive (not hard! We only had to stay together for a whole dive to do that!!) whilst making ascents at the planned rate, gas switches at the correct place, and sticking to run / stop times as planned…. PLUS deal with the various other issues that Mark would throw at us. We even had a sweepstake on how far over the planned 31m run time we might be. I led the field with an optimistic 33 minutes.
There was a massive improvement this dive and we descended in formation, paused for bubble checks and s-drills before continuing down to the silty depths at around 27m. Before descending we had spoken of team positioning and allocating tasks so Alice took the lead, leaving Jules and I behind to complete the triangle formation we opted for with my 'Sun in a Bucket' GF 250w torch lighting up the world and alerting Alice to our presence / issues.
We bimbled around the wreck of the SS Binnendijk in formation…Occasionally catching sight of a dark shadow just out of sight, like a shark waiting to pounce on it's prey, ready to lunge in and signal an out of air, tie someone in line, or something just as devious!
Whilst finning around Jules and I spotted the lesser known pepparami wrapper fish. Jules pointed it and gesticulated about stuffing a big spicy sausage in her mouth.... At least I think that's what she was gesticulating... I'm a little naive in these matters.
We had planned for a 20min bottom time and so HAD to leave at that point to stick to plan. After each of us having various 'issues' the time was ticking away when at 17 minutes I ran out of back gas! Ooops! I signalled to Jules and immediately got her long hose. I kept an eye on the time and started to reach for my blob before realising it made more sense for Alice to do it. So I signalled to her to send a blob up…. She reached for it….. Bugger! It wasn't where she had clipped it! (It "must have fallen off" was Mark's explanation afterwards…. And fallen and accidentally clipped itself elsewhere…. Hmmmmm!!!!) So time was ticking…. As Alice got hold of her back up, assembled, and blobbed up with minimal issue just as 20 minutes ticked onto the computer! We started our ascent on time! HAHA! Take that Mr Powell!
Mark had other plans though and "somehow" the line began to get tangled around Alice's manifold… Do you see a theme developing??? We dealt with that and got to our 1st stop depth ON TIME! This was also our gas switch depth so I signalled that I would switch first so I could get off Jules' long hose. Followed procedure and performed gas switch before Alice and Jules switched after I confirmed depths and that it was ok. Jules and I then sent up blobs and I spotted some more line getting tangled! We were on time on our last stop and other than a few occasions of bumpy buoyancy we held the 6m stop well. Our last ascent was at 3m/min and we left the stop on time…. Plan said that we should all break the surface at 31 mins………… with 31 minutes showing on all of our computers we all broke the surface of the water! WOOOHOOOOOOOO!!!! I think we were all really pleased with our performance. "So…. How do you think that went?" got favourable responses from the team and an "exceptional" from Mark which I would imagine is something very special indeed!
We finished day 1 with great euphoria and dizziness! We put it down to CNS toxicity rather than a really pleasing 2nd dive! Celebrations were made over some pub grub in the breakwater with a few drinks and of course a bit more theory!!! Tonight's theory was on computer based dive planning! After we'd planned the next day's dive schedule it was back to Jules' house for a cuppa! It had been a long (20hours!!) day but a really good one!!
Day 2
The weather wasn't playing nice for the Sunday (and Monday was looking unlikely to be any better) and the chance of us getting out of the harbour were nil. This limited our options a bit and so it was nominated largely a skills dive. We all met at 9 for a few hours of theory on decompression model theory… Buhlmann, Bubble models, Suunto sneaky rip off NOT really a bubble model RGBM, M-values, Gradient Factors, and which computers use which model, and we finished off with a bit of ratio deco. Just what we all need to start the day!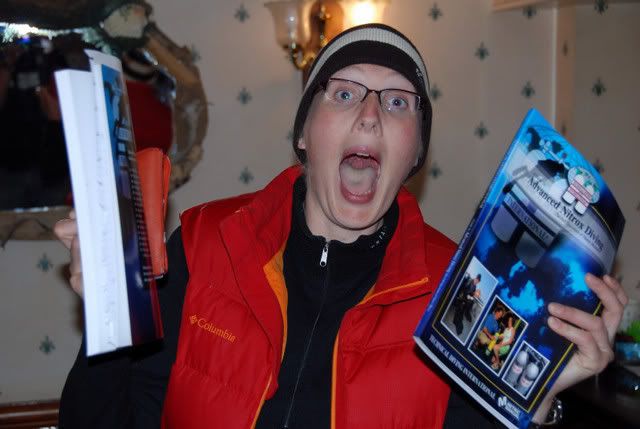 Now that we'd planned our dive, knew the gas we would choose for that dive based on gas useage, deco efficiency, bailout potential we popped the tanks in for the appropriate fills! Well actually we didn't as a dive to 14m didn't really justify nitrox back gas or any fancy deco gas!
So out we went to visit the Countess. (
http://www.earth.li/~kami/divedorset.shtml#Countess
) We were going to do 2 dives with a short surface interval and debrief in the water to avoid the boat going out twice.
Not sure what happened on these two dives but we all went to crap! Buoyancy was all over the place, our stops were up and down like yoyos…. There were a few skills that went to plan though…
First dive we did some practice removing 'stuck' wing and dry suit inflators and replacing them and swapping to spare masks. Whilst finning around Jules' wing inflator stuck and so she lost a source of buoyancy, the dive was thumbed. We started the stops from pretty much our gas switch depth and I called the wrong plan and there was a lot of confusion. Sorry team!
Only saving grace was that it was a more conservative plan. When we got to our gas switch depth we all switched as planned, 2 mins into a 5 min stop Alice discovered she was 'out of deco gas'. Lost deco gas plan meant that she would have to do 15 mins of stops so I finished my stop and switched to back gas and handed my deco reg over to allow us to complete an accelerated stop. "So…. How do you think that went?" Grumpiness was evident in all responces.
Second dive we had planned to do the rest of the no mask skills. This was to be Mark laying a line across the wreck and leading one of us across (so we could see the distance) then mask removal, remove reg and swim the length of the line…. Nice… We could then put regs back in, take our stage off and clip it to the line, still maskless swim the length of the line and back again before re-attaching stage and being given back out mask…. This didn't quite go according to plan though! Alice and I sat tight whilst Jules was led off to do her skills…. We waited… perfected our buoyancy….. waited some more….. tried some backwards finning…… waited….. wrote each other some notes…… waited….. after 15 minutes waiting without seeing anyone we gave up, sent up a blob and had a potter around. In a minute or so Mark came down the line and we started our ascent… It was lucky he did because by the time we got to our stop I had lost my back gas (in both independent cylinders), Alice had lost all of hers…. And I had lost all my deco gas! Great! So we had to buddy breathe off her stage for a few minutes before surfacing….. Wasn't my favourite task as it was the first time I'd ever even attempted it! Managed it though and it highlighted that I really don't want to be doing that for real!!!
The day ended with heavy hearts after a couple of dodgy dives…The whole day it had been pissing down and the wind was ripping around. So cold that nipples were like bullets... (That's what the girls are doing. I'm simulating Jules' pepparami action!)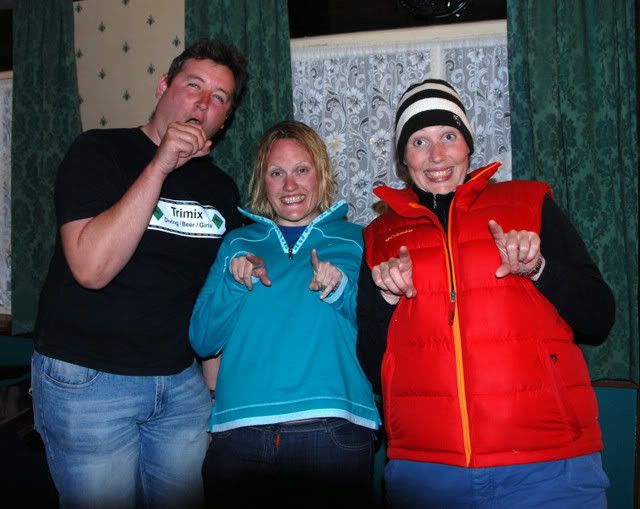 We were all in a hurry to drop tanks in for a fill and to get into some warm dry clothes. Jules put her keys in the car to keep them in the dry…. For some reason her car decided that it didn't want to give them back though and locked itself!!! So after a call to the BMW service line and some dry suit removal in the pub, drinks were had. BMW couldn't send anyone out until the next day so we found homes from dive gear and awaited spare house keys to arrive.
We had completed enough theory for the day and so Mark was given the night off and we all decided to go for a curry! Yum! That evening we headed off to the Khazi (so Mark called it) for some nosh and a couple of beers! A great time was had and lots more laughing and being silly before heading back for a cuppa and bed, ready to fight another day!
Day 3
We were unsure what weather Monday would bring and so arranged to meet Alice at the dive centre at 0900 for potential meets with BMW service, some theory work on lazy shots and deco trapezes, to finish exams, and a couple of dives before the final verdict!
Dive 5 of the course involved Alice and I needing to pick up the no mask skills that we missed out on Sunday. I went first and swam with Mark along the length of the line. I settled myself at the other end and removed my mask… I took 10 – 15 seconds to calm my breathing before taking the reg out and going for it…. FIN FIN FIN FIN FIN FIN FIN FIN FIN… BUMP! FCUK MY HEAD!!!! That must be the end…. SHIT! Not it's not! FIN FIN FIN FIN FIN FIN FIN FIN… Aaaaaaaah, reg in, made it…. That's better! I settled myself pretty quickly and had a quick attempt at trying out the old wives tale of catching a bubble in your hand over your eye to allow you to see properly….. didn't work! Then unclipped my stage, clipped it onto the line and made off for my leisurely 2 lengths of the line… On the way back I felt a hand on the top of my head… BUGGER! This is Mark simulating an out of air diver!!!! He's going to take my….. bubble bubble bubble…. Back up reg in! and continue to the end of the line…. Stage unclipped from line, clipped back on, hand out to receive mask…. No mask…. Wiggle hand…. Still no mask… Right! Playing that game are we! Back up mask out and…. Hmmmm… It's getting very light all of a sudden! DUMP DUMP DUMP!!!! Bugger…. Popped out the surface! Spare mask on… Caught breath for a bit and got picked up by the boat. I was back on the boat and sat down when an SMB came up for me to descend down. Too late
Back on the boat I went through different emotions… Initially the first few minutes were spent calling myself a twat. The rest of the time was spent worrying about the team and what they were going through and how I was completely useless being on the boat and should be down there with them.
Jules and Alice did great and managed a good ascent (to the correct tables!!! So not all bad me not being there!)
We got back to find the BMW man there and had rescued Jules' car keys! Hoorah!
Last dive was approaching. This was to be line laying skills. For some practice we laid line around some bollards in the car park and a skip. Of course we then had a 'silt out' so had to close our eyes and simulate no vis. Whilst reeling back in the line "accidently" got caught around the knife on my leg, I untangled it and Mark then whispered in my ear…. "You're out of gas" EEK! I thought and reached out for help… No one there! Ooops! I started reeling in quickly… Still no one there! I dropped the reel and felt my way quickly back along the line before running into the skip! Urgh! I then drowned…. Which Jules described in her own affectionate way as… "being my own fault due to rubbish line laying!!!!" Cow!
Now was the time to put all our new line skills, problem solving, buddy skills, manage ascent, use a lazy shot and everything else into action!!!!
We got to the bottom of the line and I did a primary and secondary tie off then off we went. Team order was Me, Jules, Alice. The plan was to lay line until a run time of 15 minutes, then mask off, stage off, stage on, mask on, return to shot.
It was the first time I had laid line so was concentrating on what I was doing, keeping the line tight, not going too fast, making sure the tie offs were good and suitable…. Then I looked round…. Bugger! I've lost them! What's going on!?!?! I left the reel and went back along the line and found them! Once Alice had finished doing shutdowns we progressed along the line, my long hose was dangling so those sneaky "eddie currents" wrapped my reg in the line and snagged me. I untangled it, clipped it off, then immediately Jules gave me an out of air… I struggled to unclip the reg very quickly though which was annoying! Eventually got it to Jules and we continued. A short time afterwards she gave it back. Whilst we were fannying around the "ratchet had come off" and extra line was let loose and tangled! AAARRRRRRRRRGGH!!!! That Mr Powell AGAIN!!! By the time I sorted it out we had come to 15 min runtime. I took off my mask, unclipped stage, held it out, put it back on, put mask back on and cleared. I was then told I was out of air! Jules kindly donated and we adjusted team orders and tasks so Alice was at the back and reeling in, me in the middle, Jules in front. We made it back to the shot with the minor annoyance of a particular trouble making diver stirring up as much muck as he could to drop the vis down to very little! Even so we still got back, started our ascent. Got to gas switch depth and all used our own stages and disconnected the lazy shot and bagged up. After performing our stop we made our ascent and the deed was done.
Back on dry land we dumped the kit and changed as quick as possible ready for debrief. After some questions on "So…. How do you think that went?" and whether we thought we'd be happy performing a decompression dive on our own, and the ironing out of a few details we were given a glowing report by Mark and a pass for the course! We're going to all sort out some kit adjustments and purchases and then get together for some practice and a dive with Mark.
So in summary… over the weekend we had times when we were Sleepy, Dopey, Grumpy, Doc, Sneezy and there was even one time which I felt a bit bashful…
And so…………. TEAM DWARF was born!!!! You can't have more fun on a dive than going down with a wet dwarf!
All of these were present in varying quantities on our TDI Advanced Nitrox and Decompression Procedures course. The pure and innocent Snow White character was no where to be seen though!
I'd really like to thank Jules and Alice for being fantastic buddies, new friends and a really great laugh. I'm sure we'll going to be having loads of great team dives in the future!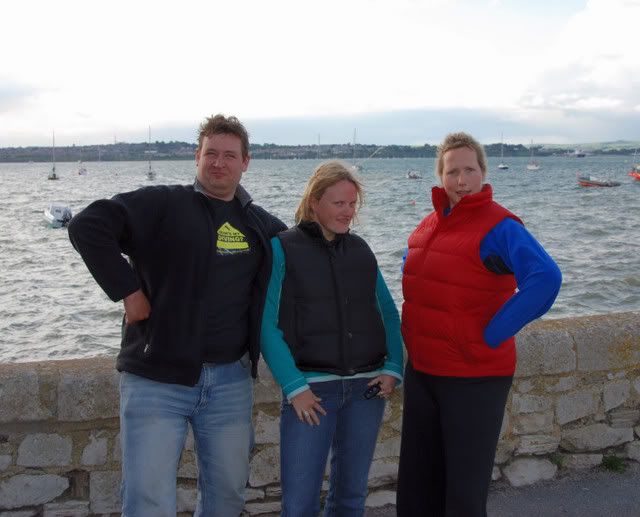 And the last thanks has to go to Mark for an excellent course and putting up with the constant smut, innuendo, and silliness that we provided. I hope you recover from us quickly! Comparing the difference in our abilities to deal with these problems as a team in a (more) competent way between the first and last dives was amazing! By the end we could comfortably deal with problems and move on with the dive with few dramas.