·
TDI Trimix trained and used to own a pony
.Just back from a week in Florida and some superb cave diving with Clare and Fraser. In total I managed 21 cave dives visiting a good selection of sites. Our itinerary was pretty intense with no free time but we managed to get the most out of the trip.
Day 1 – Ginnie Springs
Day 2 – Telford, Little River and Ginnie Springs
Day 3 – Peacock 1 both pothole and peanut lines
Day 4 – Peacock 1 pothole line and Orange Grove
Day 5 – Hole in the wall and Twin cave (Mariana County up past Talahasse)
Day 6 – Madison Blue and Ginnie springs
A map of sites can be found below although it doesn't cover Mariana County
http://www.cavediving.com/aftp/cave_map.pdf
Our base for most of the week was Extreme Exposure (EE) who is based in High Springs. We rented two sets of 104's a piece and a 02 bottle for me so I could add some conservatism after my PFO op last December. The rental of the tanks was $50 per day for two sets with all the Nitrox 32 we could use.
Ginnie Springs
Ginnie is a famous cave diving site and one of the few that is open 24/7 – once you've bought entry you can dive as late as you like. This let us manage 4 dives in the first day. We made our entrance via Devil's ear for all the dives which has the most amazing flow. You can literally dump your wing with a full set of 104's and it's still capable of blowing you out of the cave even with all that negative buoyancy. The first two dives we didn't make it too far – Fraser ended up developing a nasty CO2 headache due to all the exertion and then sat out the next two dives. That left me leading in on our third dive. I managed to get just over 600 ft back on 1/6 of the gas making it through two of the early tight spots (Lips and keyhole). The cave changes as you progress altering from the large domed ceilings of the gallery to low passage with jumps appearing followed by wide sections with clay banks. We exit back to the start of the cave, re-calculate gas for another 1/6 and proceed in this time with Clare leading. We pick an optimal route through the cave sheltering from the flow wherever possible. We pass where I'd got us to and the flow eases up past that point and we pass the Maple leaf - a rock formation interestingly shaped and carry on to the 1000ft marker before I turn the dive on gas. In that one dive I was convinced Ginnie was an amazing dive – it's almost like diving several different caves in one dive.
A map of the system is below
Telford
We set off very early to dive this site. It's a free site which is best dived early before the locals turn up, drink beer and potentially damage our hire car! We'd discussed the dive with Jarrod the day before when we met him at EE and he'd kindly drawn us a map of the cave – bumping into Jarrod at EE was a nice surprise. We made our way into Telford and reached the first gap where the mainline ends and a sink appears. We tied in a spool and crossed the sink finding the mainline the other side. The cave was overall quite dark and with some silt and was quite different to the caves I've dived in Mexico and France. We reached the 2nd gap and again tied in and carried on. There were some low passages and some tall narrow passages along with some huge cracks in the ceiling which gave it some variety. We turned the dive on gas some 35 mins in and made our way out.
Little River
Little River is a site at one of the state parks and there were lots of people swimming in the spring. The flow was down when we were diving which let us reach the T on the mainline on both dives we did. This was a deeper site in the mid-20's so our dives were shorter than the others. Talking to other people we had a rare treat with the flow that allowed us to get a substantial distance compared to the normal howling flow.
Peacock state park
There are several sinkholes and a complex cave system at Peacock and we dived several different lines. My favourite was the Pothole line which after several hundred feet led to some beautiful big rooms. We didn't plan to but travelled the 1400 ft from Peacock 1 to Olsen on just 35 bar of gas and had the spectacular site of another sink appearing. We all covered our lights as we swam up to it before turning the dive.
Hole in the Wall and Twin Cave
3 hours north of high springs past Talahasse we visited the Millpond and these two caves. I must admit the idea of a boat to go cave diving seemed a bit mad but it was worth it. We visited Edd's place Cave Adventures and from their rented a boat.
Cave Adventurers - Marrianna, FL - North Florida Cave Diving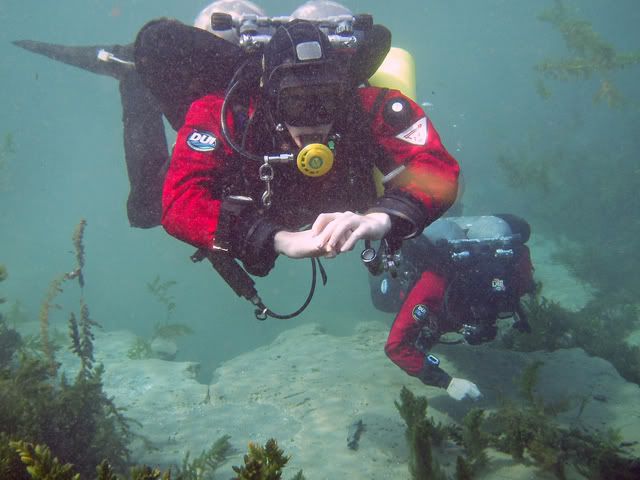 We managed several dives – the first two in hole in the wall where I saw more life than I've ever seen before in a cave. We saw the tiny cave salamanders which aren't found anywhere else in the world along with lots of cave shrimp. Hole in the wall has a series of huge rooms with low arches interconnecting the rooms. We dived both the upstream and downstream lines before exiting the cave.
The next dive was Twin cave which was a bit limited in vis but quite different look and feel, a little like France. We came across the most amazing halocline which was based on temperature in the deep section of the cave.
Madison Blue
On the way back from Mariana county we stopped at Madison blue and did a couple of dives. Madison is stunningly blue with almost gold limestone and is a little tight in places.
We rounded off the trip with some more diving at Ginnie getting out of the water at midnight on our last day.
Along with the diving we managed to fit in meeting up with loads of people and everyone was extremely friendly. CaverKevin and Rubis met us for dinner Saturday night. It was great to chat to them both and Clare went for some dives with Kevin. We went to lunch with Jarrod on Friday and he gave Fraser and I our Tech-2 cards. Anthony Rue and his wife invited us for dinner at their house which was a welcome break from Floyd's and we have a great evening chatting about diving. We also got to see some amazing footage from Wakulla, Turner and Emerald which was a real treat. I'd just like to say thanks for the hospitality from everyone we met!
We had a huge amount of help from EE during the course of our trip. Doug the manager lent us his own doubles when one of the rental sets had a burst disk problem. Clare's new light wasn't ready when we arrived so again he loaned one for her to use. One of our backgas regs was playing up so again loan kit was provided while the original was serviced. Fraser ripped his neck seal and they provided a rental TLS 350. It was amazing how much effort they put in to make sure we had a good trip so we owe the whole EE team thanks.
We did have a few funnier incidents over the week aside from the diving. The hire car had a mind of its own and managed to lock the keys inside at one point! I ran over some weed on the millpond and broke the boat – as I unclipped the oar I brained Fraser with it (oh how we laughed). Clare decoing at peacock upside down literally hanging from the ceiling like a bat (Howard – your worst fears were confirmed). Me telling Jarrod how Fraser got the nickname "Two Lights" (Fraser didn't laugh). Friday night at Ginnie on their busiest weekend – 1000's of alcohol ridden people playing lots of rock music and whooping loudly while 3 GUE teams (us, Todd Leonard & his buddy, Paul from EE & his buddy) were daft enough to try and make our way into the water.
Nearly running out of gas on the way to the airport was also fun. Fraser failing to look before he leapt at Orange grove resulted in a badly damaged knee which would have been better avoided.
Overall an excellent trip and I will go back to Florida. Cave-1 limits let us manage a huge amount of diving and Florida flow presented a challenge compared to some of the other dives I've done. I just now need a holiday to recover!
Cheers
Al