Some of you may recall a few unusual posts from me last week where I appeared to be excited about a shore dive i had heard about. Yes, you did hear right, a shore dive. These are things that I have long held dear to me as something to be avoided, or good reminders why boats were invited.
This dive sounded a bit different however, and the "new" me is determined to like shore diving as, well, basically, they are free
This dive was in the Helford estuary and was to visit the Eelgrass beds that are found in one small bit of it. These beds are very special in ecological terms and the big attraction to me at the moment is that apparently the sea hares arrive, grow BIG and mate there. I was eager to wtiness this for myself, the only sea hare I had managed to see before now was a beautiful, but small, specimen a couple of years ago whilst diving the Manacles.
I had been warned that visibility was likely to be poor if it had rained, and it had - it had bucketed down for the first half of the week. However a few dry days gave me hope so we decided to potter down to the site this evening, for a dive just before high tide, to try and get the best of the clean flood tide. Of course, just as we got in the car to leave it started to rain. It was only light rain however, and it was still warmish, with a flat grey sky as it had been all day so we continued on.
The logisitics of the dive involve a trip down a single track dead, end lane, some kit dunping and car removal to a park at the top of a tree-covered hill. Then march the kit down a well trodden and maintained, but steep, footpath to the shingly beach. Boy, was it worth it though. The beach was empty and secluded, and the water flat calm. we took a break and watched the boats on their moorings before deciding it looked slack already and kitting up.
Walking into the water the poor viz did not materialise and I think we must have had a nice 5m which is plently when the deepest you are planning to get is about 7m! It was light and bright and very relaxing. I took a bearing and we swam directly out to get to the eelgrass beds. After about 20m a few patches appeared and a few meters later the beds started in earnest. It was quite weird as the tall blades of eelgrass had their lower halves swathed in thick blankets of dead plankton, making it look as if the seabed was wearing a fur coat. Every other stem seemed to have a resident snakelocks anemone perched precariously about halfway up and looking as though they were clinging on for dear life.
Amongst the plankton we found crabs, and two different types of pipefish. Fry swum through the eelgrass and small wrasse darted about. It wasn't until I was about to turn the dive on half an hour when farntic flashing from caroline's torch caught my attention - the big prize had been found. I turned around and there were three, huge, stunning sea hares. Two were locked in an intimate embrace whilst the third loitered around the edges - ovoiusly waiting a turn!
We watched them and I tried to get some pictures, difficult though it was as the plankton rolled around in a very light movement with the waves above - we were still only at 6.4m, after all! There was much laughing and shrieking in joy through the regs watching these guys who, judging them against my hand, were about 7" long, each. After a while we "high fived" underwater and mooched out way back in.
We surfaced about 10m from where we entered, which I was quite pleased with, given it was done with a £3 compass from Trago Mills
There was still no-one on the beach, the rain had stopped and the sea was still calm. Bloomin' perfect.
The Loner up close
All three of 'em
Bubbles...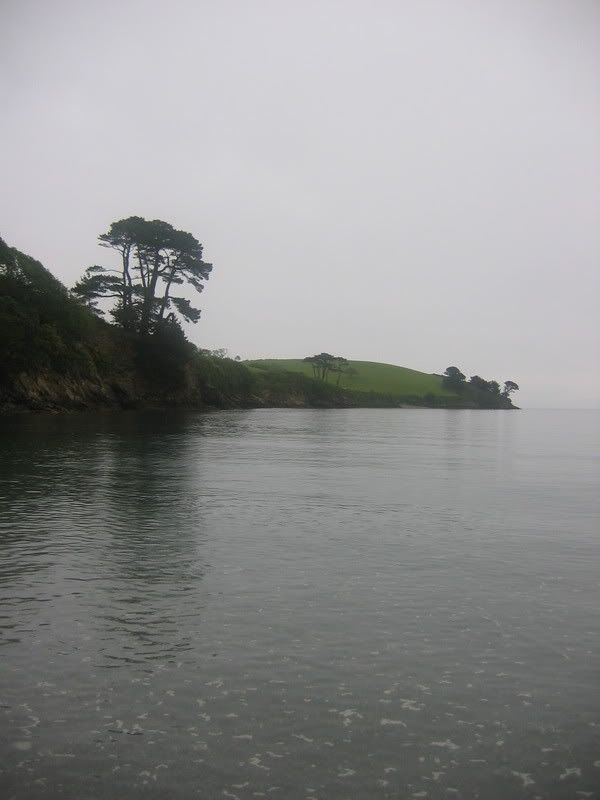 Location, Location, Location