Imagine being in a cave, about 1,000 feet back, which is about two metres tall (of which you take up a significant part in your 104s and with your bottom gas stage). The tunnel is not really two metres high – it's probably twice that but is half full of very fine silt which drifts up in slow lazy clouds at the slightest movement – even the vortex created as your body passes by is enough to shift it slightly. You really don't want to disturb that as if the viz goes you will not be able to negotiate your way out easily. You are therefore making very gingerly progress through the passage but all is well and you are having a cool dive. Until your right post explodes in a cloud of bubbles just at the time that your primary light fails….

Welcome to GUE Cave 2 training in Florida with Jarrod Jablonski - and my 3,000th post on YD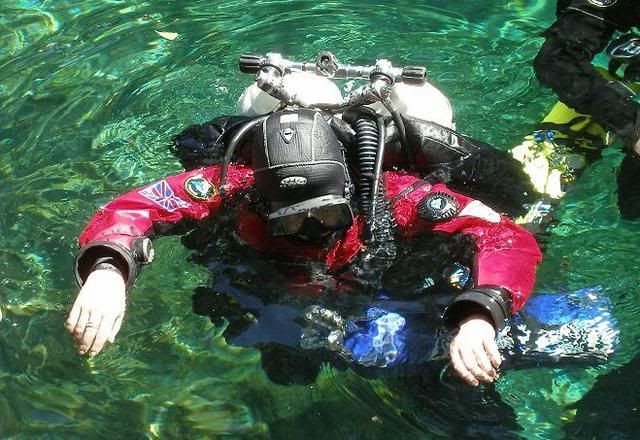 Only take what you need.....
I had been planning to do Cave 2 with Al and Fraser in Mexico until I spent some time in Florida last year and found that I had a great deal to learn about flow. I'm keen to dive here more so asked Jarrod if he would run a course for me over Easter when I could get away from Westminster. John Kendall and Mats Edenfelt agreed to come along as well.
Days 1-3 were long – diving Peacock 1 and 3, Ginnie and Little River. Practicing stage drops, jumps, circuits. Dealing with multiple failures and gas sharing in flow over protracted exits. We had some fun dives and clearly did OK as on Wednesday night Jarrod suggested a change to his plan (which had been to return to Ginnie) Did we feel like hitting the road for a bit of a trip and going to do some caves a bit further away which were less dived? You bet we did.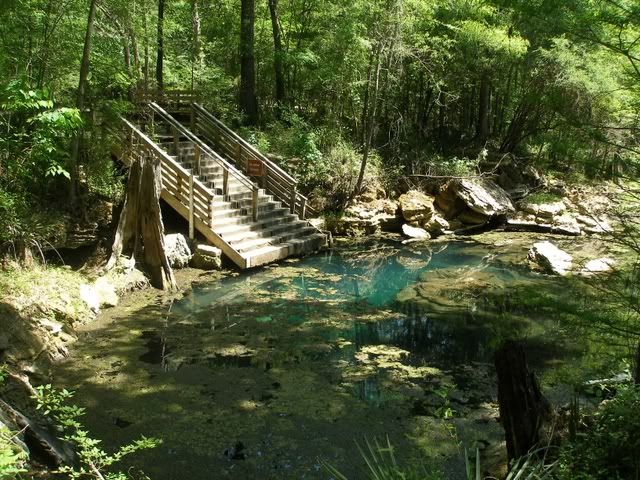 Peacock
So Thursday morning we drove north about three hours to Jackson county (crossed a time zone), hired a boat from Dive Adventures, loaded it with 8 twin sets, and seven stages, and went off on a millpond with Jarrod driving the boat to find some caves.
First was Hole in the Wall – aptly named as a small hole in the wall of the pond opened up into a beautiful large white walled cave. This was my favourite dive of the trip so far – amazing tall rooms fissure like, long passages which roamed up and down in depth, each opening to reveal more rooms which were many meters tall. We dropped the bottom gas stages as planned and headed in further, the cave dipped down deeper and we came to a T in the line which, when marked, took us off deeper still.

A small white salamander type creature was floating around in various places in the cave. I mentioned to someone about this, saying I hadn't seen one before, and they told me that the creature is not sen anywhere else - at all. A unique species to this particular cave.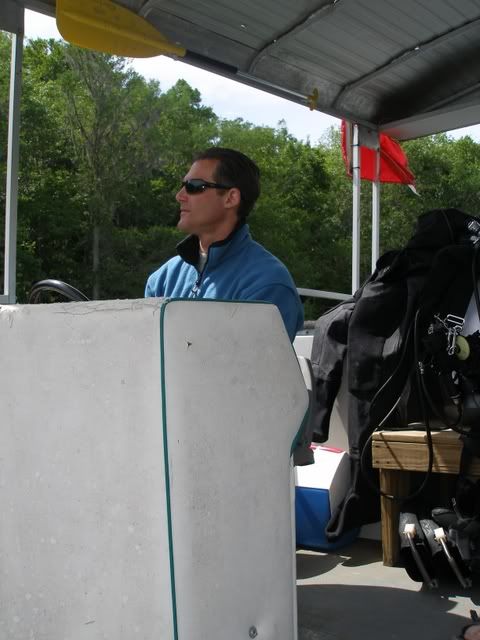 A few failures and gas sharing episodes later (much stage switching and swapping amongst divers) John and Matts were pretty engrossed in handing stages off when Jarrod covered my light, took me up into the roof of the cave and told me to stay there.

When John and Matts finished sorting out the gas emergency, they looked around and realised that they had lost both the line and me. It was weird watching them from on high, hung like a bat in the ceiling, as they recalculated gas, dropped a marker and set off back to try to find me. Given that gas was in very short supply as Matts had lost his backgas completely at this point, it was a good thing that John did a final check up into the ceiling where he found me.
Lunch and another short boat ride later with Jarrod trying to manoeuvre through cypress tree stumps, brought us to the entrance to Twin Cave – so called as there are two small entrances. Eels and catfish greeted us in the cavern area – sounds kinda weird but it was really cool.
No bottom stages on this dive but O2 bottles needed to be dropped at 6 metres on the way in. This cave is much more sculpted than Hole in the Wall, clearer water with a fantastic blue tinge, and small tunnels which incredibly silty bottoms – much care needed here.
The cave wall is littered with fossils of beach creatures that lived some 40 million years ago – sand dollars, sea urchins, shells of long dead creatures which lived there when the cave was part of a coral reef or beach – now many miles inland in north Florida. The cave has huge thermoclines which drop the temperature by several degrees every time it dips below 25 metres or so. Comes as a bit of a shock.
We make good progress into the cave and follow a T as planned to take us on to a circuit. When the dive is thumbed a quick succession of failures sees a gas sharing exit from max penetration – through tight and silty passages with Ts and depth changes to negotiate. I take John out the first 1,000 or so feet then have a right post failure myself so hand him off to Mats so I can shut down the post and safeguard my gas supply. Jarrod clearly doesn't think that this is challenge enough over a passage deep in about three feet of silt so he flips of my primary light at the same time.
When we get to the cavern area I get the O2 bottles for the whole team to avoid congestion as we get the OOG diver on to a safe source of gas – then we find a bit of roof at 6 metres and chill out. Jarrod takes his fins off and paddles round the cavern area to relieve aching muscles. Cool dive.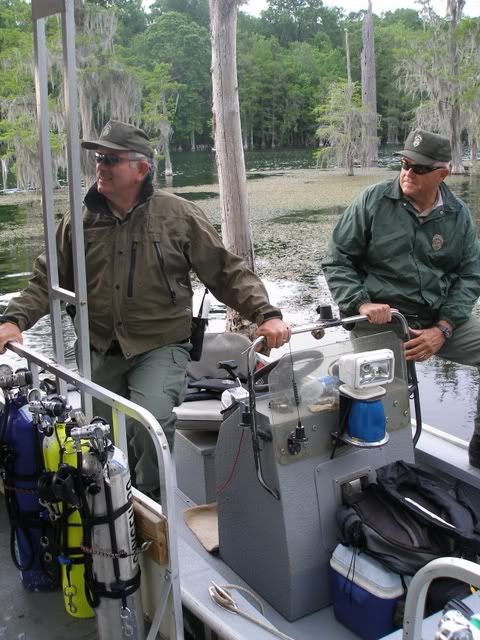 The sheriff is out and about and stops over to say hi. A quick boat ride back to Dive Adventures where Jarrod does his best to take out the dock by aiming for some petrol cans on the back of another boat. Edd and his wife are great company and run a slick operation – well worth a visit.
We debrief the dive over diner in 'The Restaurant' – it has a name but no one calls it anything else and if the food is good, the talk is better.
An early start sees us at the Jackson County sheriff's office to sign in and pick up the key to dive Jackson Blue. We ferry stages and kit down to the water and jump in – flow is very down, barely noticeable and viz is superb.
I run the line in on this dive and pick up the mainline without too many issues, after dropping the O2 bottles off. We enter and are immediately struck with how blue the water really is. Low wide caves with white walls and sandy bottoms – thousands of sea urchin spindles littering the floor from when this was a beach – we are now some 100 miles inland.
We head in some 900 or so feet and take a T to the left which takes us down to our max depth of around 30 metres. Dive is turned on gas and as we head out we get to see this beautiful cave again from the other angle. Jarrod reckons conditions are best he has seen in 15 years which makes it a treat and he lets us enjoy it rather then rain on our parade as is usual on training dives. He can't completely help himself though and calls me out of gas – then steals one of Mats' fins. I don't think that hysterical laughter on my part when Mats communicates to me that he has lost a fin is the right course of action but I steer him out for a few hundred feet, back past the T, until Jarrod relents and gives it back.
We get to the cavern area and take off hunting round it for a while looking for fossils. Jarrod takes Mats and John round looking for stuff whilst I hang, enjoying the sight of them bathed in blue light from the entrance. A picture which, even with no camera, will stay with me for a long time indeed.
Get out, pack up and head off for another drive to Madison Blue – another favourite of mine although I was getting slightly nervous. Jarrod has left us alone for a while, and while the dives have been awesome we are still doing a Cave 2 course and are expecting a lights out gas sharing exit from full penetration at some point. We are taking stages into Madison and therefore full penetration will be a long way and we will be past the half hitch restriction which people would have to be rather 'motivated' to get past when gas sharing. Where the cave is not tight (which is not often) it is silty. Ho hum.
We enter through the large cavern area rather than through the rabbit hole and Mats finds the mainline after a few small hitches. Madison Blue is clear although not as noticeably blue as Jackson that morning.
It is a very attractive cave – smaller than the others I've dived and much more full of character – pulling through the tight areas is definitely best to avoid too much effort and, more importantly, avoiding disturbing the bottom which is quite deep in silt in places. I found getting in a bit tricky at times until I was able to put my bottom gas stage down at the drop about 400 feet in.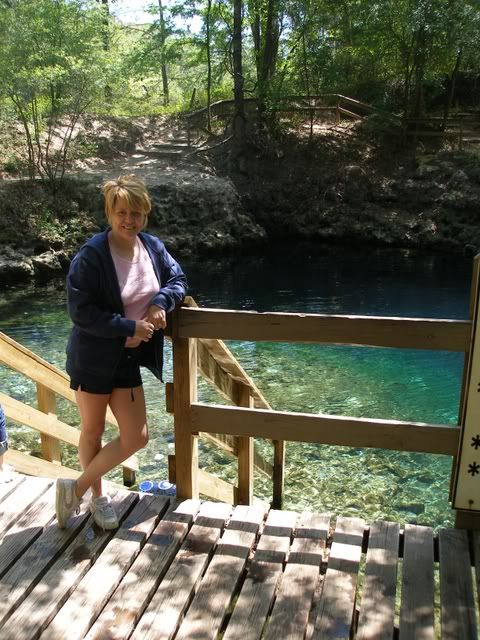 Madison Blue
Through the half hitch and on, cave passage undulating ahead of us, in and out of crevices where white walls sometimes gave the water the blue tinge which gave the cave its name. We get about 1,000 feet in when the dive is called and to be honest all hell breaks loose. I lose my right post, then my left post which Mats fixes only for it to explode again a few minutes later at the same time my light fails. I get on to Mats long hose and go to back up lights to find that they have been stolen. As have Mats' and John's spares – we are down to two. Then one.
Hmmm – half hitch restriction then – gas sharing on one light. Well we can count our blessings as one light is definitely better than none.

I struggle through trying to control the long hose behind me which Mats helps with a great deal and, clearly sufficiently motivated, we get through only to lose our last light the other side. No point in going through any more of the dive – I didn't see any more

J

. John's bottom timer had reset as the dive was too long for it – mine registered 112 minutes so I called deco accordingly if not somewhat conservatively
The dive had been thumbed at minute 38 so the exit took a fair while but we made it out as a team with good gas reserves – I have so much left I can dive again but have no energy to do so!
This was the most fun I have had on a GUE course – we got to do some really cool dives and whilst John and I had not really dived together more than a couple of times before the course and had never met Mats, we gelled as a team very quickly and had a great time. Jarrod sets the bar high – but in caves that is exactly where it should be and raising your skill level to the standard required gives you the tools that you need to survive in this unforgiving but tremendously rewarding environment.
Most importantly we got to dive - and are here diving still for a few days. Hill 400, Peacock 1 to Challenge, Orange Grove to Challenge, The Bats in Ginnie, the Bone Room, Madison and Jackson - and above all Hole in the Wall and Twin Cave which were real treats. We train to dive - not the other way round and it's nice to have been able to meet up with so many good people and have some fun.
Thanks of course to Jarrod, to the team at Extreme Exposure who always go beyond the call of duty to help visiting divers, to the team in Tallahasse who made us so welcome on our first trip there, and from me to John and Mats – two superb divers who made the week so much fun.
__________________