Norway May 2007.
Vessel: Gaelic Rose
Contact:

[email protected]
Three of us charted the Gaelic rose all to our selves, Brian "fist of fury" Matthewman, Jeff "Master Chief" Darby and Myself. The vessel is a 60ft converted fishing vessel similar in nature to the 'Jane R' but smaller in many ways. The skipper has equipped the Gaelic Rose to carry 12 divers, the same as the 'Jane R' but I think that is pushing it a bit far for a vessel of that size. Bob Jones, the skipper, prefers groups of 6-9 for the perfect dive trip and I have to agree that 6 or 7 is a better number. Small boats have their advantages though and getting in and out of small spots is one of them. As skippers go, Bob is the usual rough diamond that squeaks when he walks but very competent with his vessel. He is not familiar with technical diving and mixed gas rebreathers, prepping units before jumping in requires a bit of patience. New to this season is Lee, the crew of the boat. Lee is a chef by trade and did some fantastic food for us while on board including a nice 12kg Monkfish dish from that I brought up from the Frankenwald. Nice one Lee!
The vessel has just been equipped with an AG75C Haskel which was hooked up by me while on board. Most of the parts came from an oily Tupperware box and spent some time in the galley getting a really good clean. Previous to this O2 was cascaded. Someone needs to go round and do some serious O2 cleaning on the rest of the parts in this supply line for sure! Although, not a bad as the AG15-30 on the 'Jane R' which was hung from the bank by a rope……Glad we brought our own He and O2. There is no helium on board at this time.
Anyone who has been on the Loyal Watcher might be in for a big shock. It's not Yank standard liveaboard by any stretch but we enjoyed it all the same. The weather was bang on, the water flat and free of current and the crack on board was priceless. The skipper took a while to get used to our extensive porn DVD collection.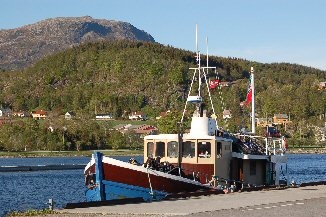 27th May 2007.
Frankenwald
, built 1922 – sank in 1940 when it hit rocks.
47m
Summary – Easy dive, nice visibility. No challenges.
A 5000 ton vessel, upright and intact on a slight slope. Wreck has been extensively robbed by visiting/indigenous divers. Visibility was beyond exceptional with lots of ambient light.
Managed a number of light wreck penetrations through an opened up bridge, engineering and accommodation section. Exploring each room with care due to a heavy build up of silt in unexplored areas. The Captains room is still furnished with a bath, sink and toilet. A very large wreck worth exploring with the advantages of CCR.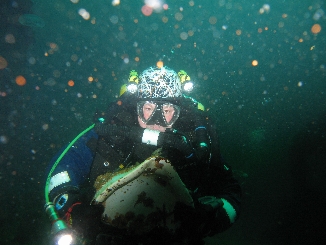 Tyrifjord
, built 1919 – sank in 1944 by the RAF.
37m
Summary – Nice rummage dive, lots of silt and poor visibility. Disappointing.
A 3080 ton ore carrying vessel, upright and broken up forward of the engine on a sloping bed. The surface was thick with plankton and a halocline which created the inability to focus on any objects. Bubble checks should be carried out deeper than 6m and final deco stops are in the soup. The wreck has limited visibility with a lot of silt on the structure. Well broken up forwards of the engine and has an auxiliary helm at the rear which is nearly fully intact. Some brass still in situ….for now.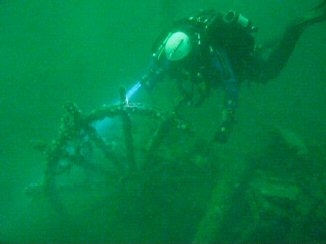 28th May 2007.
Wilheim
, built 1939, sank by a Norwegian MTB in 1944.
70m
Summary – Fantastic atmospheric dive, lots to see. Huge.
A 5455 ton cargo vessel carrying coal. The surface was similar to the dive on the Tyrifjord so care should be taken. A very large wreck on dark water that extends to 68m on the sea bed. The wreck lies on its port side and is very much intact. A few large cranes are present and give a good reference to its size. Wreck penetration is easy with plenty of entry points. The floors are tiled in a black and white diamond pattern in places which is interesting and there is a lot of rust debris inside the wreck. The bridge has been stripped as has been most areas accessible to locals. Experienced CCR divers with penetration competence will have to dig deep to find items worth looking at.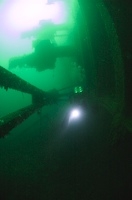 Ingertre, built 1920, sank in 1936 when she ran aground.
35m
Summary – Shallow with good light, well worth getting your hands dirty rummaging about for tink.
A 3088 ton steamer that is well broken up. There is a lot of interesting items still to be found on this wreck if you are prepared to look hard enough. Cups, crockery and other recognisable items. The wreck is well broken up but the bow is still very much as it should be. All other parts such as the engines, boiler and prop are present and in the right places if not flattened out.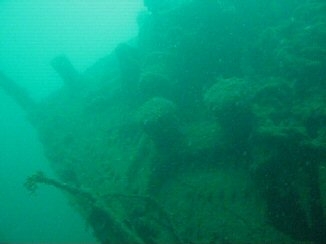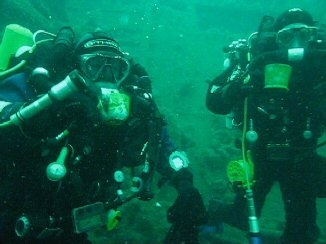 29th May 2007
Helga-Ferdinand
, sank in 1944 in an allied air attack.
68m
Summary – Lots of brass still in place at deeper parts, well worth a look with He.
The 2566 ton wreck is on sloping ground from 36m to 68m on the sea bed. No current due to its extremely sheltered and scenic location. There was no information on this wreck deeper than 50m available. A good penetration dive beyond this depth as it had not been raped as much as the other wrecks which are shallower. The engine room is very rusty as you would expect and the structure is VERY weak. No bubble makers should undertake a penetration in here. Port holes with dead lights and sinks with brass taps still in place. Many light bulbs were still in the fittings and intact. The stern has a gun emplacement but no gun, the auxiliary wheel is ½ intact with the remainder next to it. The wheel is a brass bolstered wooden wheel. The rudder is in place but no propeller, not worth going down to. Decompressing up the wreck with microbubble stops is easy as the masts extend to 27m.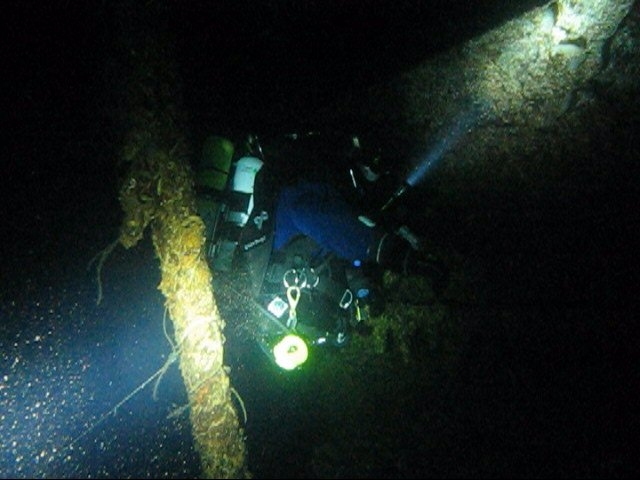 30th May 2007
Svanholm
, built in 1909, sank shortly afterwards. No apparent damage explains why.
Summary – A nice intact wreck with lots of easily penetratable areas.
43m
A 1800 ton timber carrier built in 1909 and sank in 1917 by a German U boat. The wreck is upright and intact, up against a rock reef/wall on its starboard side. The torpedo damage must be on this side as none were seen anywhere else. The wreck has lots of sinks and bottles strewn around. Lots of the sinks were undamaged and intact. Portholes were again, all gone. A testament to the Norwegian no take policy. In the Captains room there was some very nice ornamental porcelain, most noticeable was the toilet which had a rose pattern inlaid in blue. Some broken crockery was in the local area with the same pattern.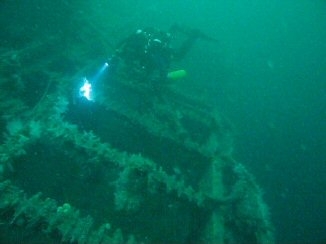 31st May 2007
Ferndale and Parat
,
Summary – Two for one wreck dive, very interesting if you take your time.
63m
The Ferndale is a 4300 ton cargo vessel built in 1925, the Parat was a 135 ton tug that was attempting to assist when they both were sunk by British Mosquito's in 1944. The Ferndale is on a steep slope from wreckage at 6m down to 40m. The Parat sits on the starboard side at the stern just short of 60m where a half buried prop sits. Either side of the bow on the sea bed used to have two guns from the Ferndale, one has since been robbed in the last two years and are more than likely enjoying its new home in a Norwegian shed somewhere. Those who dived the Rhondo will see a distinct similarity to the way in which the Ferndale lies. Apart from the bow, she is intact. The aft hold appears to have the engine and prop boss from one of the mosquito's inside, I'm not entirely convinced. The holds are very similar to the Breda but empty Toilets and sinks were still present with lots of minor artefacts scattered throughout the wreck. The best visibility is at the Parat which can exceed 20m.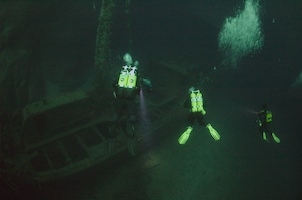 1st June 2007
Spring,
Summary- A great wreck but don't just look at the props.
50m
The wreck of the Spring is what is left of a 900 ton steamer and sank in 1914 following a collision. She lies on a fair slope on her side and very much intact. The main plates are showing large scale cracks and I would guess that it won't be long before they collapse in. At the deepest part is the stern with a rudder and prop very much in view. Although the main structure is impressive to look up at, this was not our main point of focus as below the wreck into deeper water lies a lot of debris and artefacts from the wreck including a lot of intact pottery. A rummage here is very enjoyable and rewarding to those who like to take it slow. The cargo hold is empty of its coal but nice to swim around on your way to the engine. Grating is just passable besides the engine to allow a cautious penetration under the engine, unfortunately not as rewarding with little to see for the effort. The bows of the wreck are firmly planted in kelp, not my bag. Time to get back on the boat.