The last two weeks out in West Wales have been simply stunning. Calm seas, light winds and wall to wall sunshine.
Makes you wonder why anyone would want to be anywhere else.
A chance encounter with Monty and some of his crew at Porthgain on Saturday led to a hastily constructed plan to get out and dive some of the wrecks under Strumble Head.
This meant skiving off lifeboat exercises for Dan and me, but given the weather, we were more than happy to make the call!
Space was a bit tight on Monty's RIB "Gemma", so we brought "Razorbill" down to make more room for all.
The rouges gallery included; Ingrid, Becky, Fin, Monty, Dan, Stuart (Bottlefish), Dan (Razorbill Dan), Mark and me.
And so it was that Dan, Mark and I rolled up to a gloriously still Porthgain on Sunday morning at 9am. Introductions were made and kit fettled and loaded. "Razorbill" and "Gemma" were both launched without fuss and we gently motored out into the spring sunshine. Vis inside the harbour was looking great and we were all excited to get out there and in the water.
Porthgain slipway
Mark on the Helm of Razorbill, Monty at the helm of Gemma in the background
Glassy seas and formation rib flying – the weather really doesn't get too much better than this!
The Vendome (or not as it transpires)
And so we pull up to our first mark for the day, a nice wreck in around 35metres of water, broken in two on the reef of Tri Maen Trai.
The GPS numbers we have don't seem to match up with the reef where I dived her before and so we foolishy ask a local fisherman where the wreck is. He points us to another reef. As we pass over, the echo sounder shows some interesting shapes so we drop a hook and prepare to splash.
The Vendome sank in 1888, she had sunk 2 years earlier and was refloated. She was driven straight onto the reef, breaking her aft of the engine. The two halves of the wreck slid down the rock, fortunately giving plenty of time for all souls to abandon ship.
It is about this time that kit envy takes over, as all manner of twinsets, rebreathers and exotic camera gear is broken out. Everyone is ready in double quick time and ready to roll
Dan surely takes the prize for the biggest camera housing. I thought he had brought a scooter when I first saw it. However, Dan's work speaks for itself so it clearly gets the right results.
"Nahhh mate, that's not a camera, THIS is a camera!" :camera:
In the water, it is clear that there is a fair bit of particulate in the water and the vis is around 5m.
Dan and Stuart drop down the anchor line and I follow suit, firing up the torch on the way down. The pin has lodged on the side of the reef and we soon drop down to 30 odd metres where the sand meets the edge of the reef. And so we commence the circumnavigation of the wrong reef!
On the plus side, thev vis is better down here and there are soft corals, sponges and more jewel anenomies than you can shake a stick at. Also I have never before seen more cuckoo wrase in one place.
My disappointment at not finding the wreck is slightly offset by finding a nice friendly octopus who lets me get up close and rattle off some pictures and video.
After around 35 minutes we make the decision to head back up the reef. As we ascend we come across all manner of macro life, more corals and sponges, urchins, jewel and dahlia anenomies, lots of mermaids purses spider crabs, velvet swimmers and a dogfish. I've run into about 5 minutes of deco so I settle in for a short hang. Dan rather smugly pisses off on his Inspo leaving me with Stuart and his random deco number generator. I clear my stops but Stuart has a few more to do, so he sends me up to pick up a weight to make his last few minutes more comfortable.
Back on the boat for welcome tea and choccy biccies. The temperatures topside may be summery, but the water is still 8 degrees. Monty is making little girly noises and I can't feel any of my fingers.
And so, still rafted together, Razorbill tows Gemma over to the Dan Beard. The Dan Beard was a Liberty ship that was torpedoed in December 1944 and broke in two. Villagers reported seeing two ships floating in the bay, the halves were that big!
Eventually the bow section came to rest in Pwll Deri where she smeared herself over the rocks. She lies in around 8-12 metres and is full of interesting sights.
Razorbill and Gemma rafted up at the Dan Beard site
Divers on Razorbill getting ready to go
Divers on Gemma getting ready to go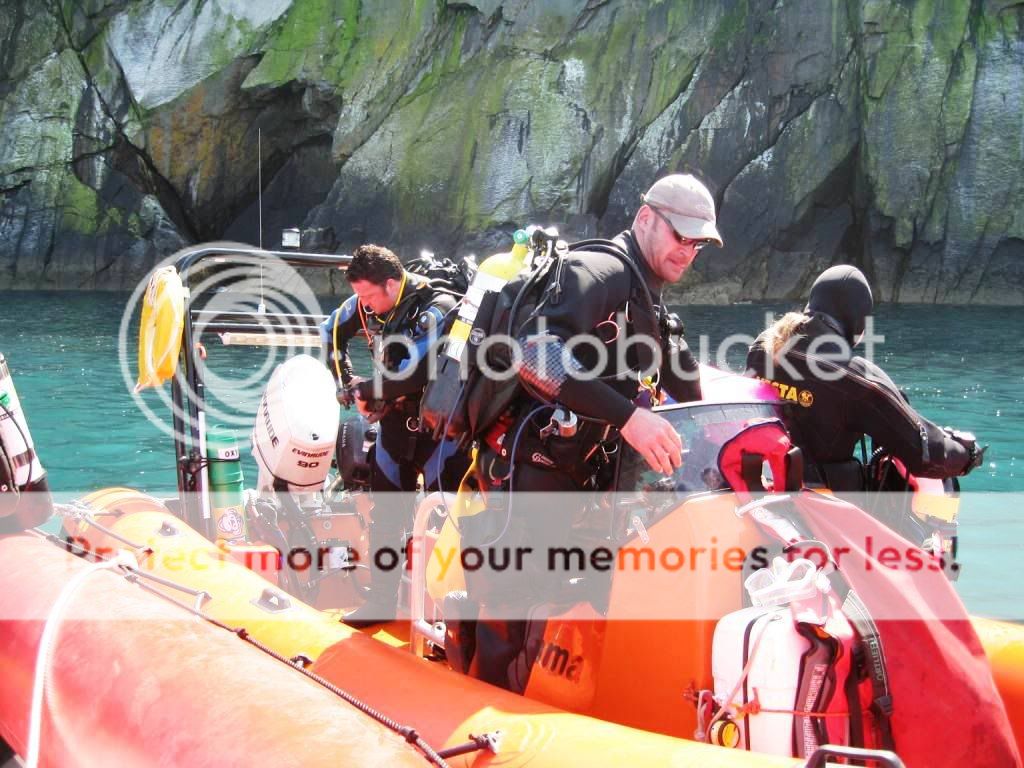 Vis looking good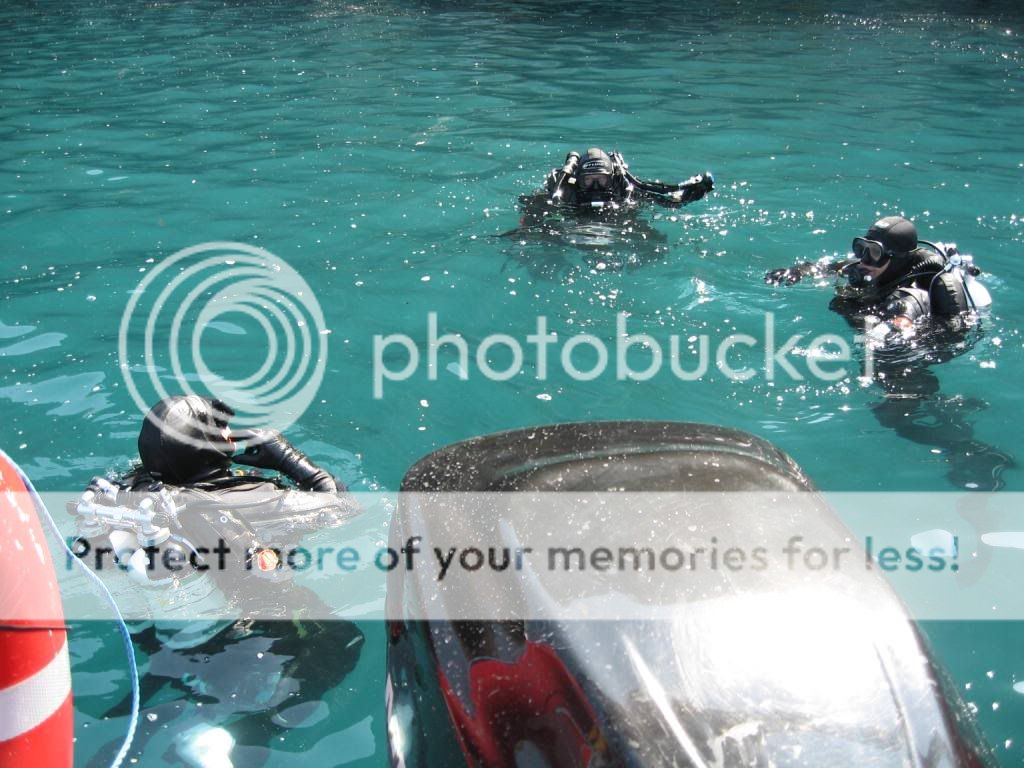 The vis is much better here, and is touching 10m in some places.. We head off for the big rock canyon and work our way round to the winch gear – one of the most iconic scenes at this site. Stuart takes a fair few pictures before we head off in search of more rust. We find plenty of platework as well as mountains of chain and a couple of big hawse pipes.
Finally we come to a huge section of mast. I contemplate swimming through it, but a bit of rubble in the middle makes me think twice. Stuart confesses to thinking the same thing afterwards!
We head round the corner towards the cave and as I lead through, a young seal is playing in the water in front of me. He stays for a while, but before Stuart comes into view, he shoots off.
Finally we head round into the cave to find the other mast section and bump into Ingrid and Monty who have come in the back entrance to the cave. We pop back out and surface close in to the boat. Lovely dive, totally chilled out.
Turns out the dive was more than chilled out for Fin, who managed to snag his drysuit on his twinset bolts and put a hole in the thigh. Unfortunately this only became apparent to him once several litres of frigid seawater had surrounded his nether regions!
Monty nearly rounded the day off in expensive fashion by dropping his new torch passing it up into the boat. Fortunately Ingrid dropped back down and earned a few pints and some applause by returning with the offending article.
We stowed the kit and cruised back into Porthgain before a relaxed beer at the Sloop Inn.
For me this is what it is all about. Super weather, absolutely cracking company and some really nice relaxed diving.
I'll try and post the video tomorrow when I've pulled a couple of clips together.
Cheers,
Simon