·
A short fat well off crap cave diver. Likes wrecks
Gravel crunched under the tyres and the rumble of the engine covered the gasps of the on lookers. The heavy door of the Jeep swung open and Mark slid from the drivers seat and slowly removed his aviator sun glasses.
There was a stunned silence and finally Howard stammered out the first words,
"My God...... Mark....... I really didn't think you were going to make it.
I took a last draw of the cigarette between my lips and flicked it to the floor crushing it under foot.
"No problem, I just told Ling who's boss, packed the car and came diving"
Weeeeeeeeeellllllllll
After the hysterical laughter died down and I had suffered the ignominy of being told I was full of s#it, we finally gathered our Kit and loaded the boat.
You see about 12 hours prior to this my darling wife had informed me I was doing the school run because she was going on an assignment. I pointed out I was going diving so couldn't do it. This didn't go down well. Ling countered that i went diving last week. I pointed out I didn't actually go diving as it was canceled. Ling replied that wasn't her problem I was planning to go diving and its the thought that counts???
I was somewhat flawed by this argument and needed at least 24 hours to formulate a suitable response.
Ling then asked the 10,000,000 dollar question.....
I thought you were diving next week?
"Yes i am" i said "Wednesday and Thursday"
Wellllll, I phoned the roofer to come round and re tile the roof, then I phoned Howard and told him i wont be coming.
Of we jog to the Invicter Grammar introduction evening for Angela's new school. 9:30 we get home and Ling finds the assignment is canceled.
Soooooooo can I pretty please go diving then? Says I
"Spose so" says she
GAME ON
I finished putting the kit together by about midnight and i set the alarm for 6. I was awake at 5:45 and ready to go by 6:10 so thought sod it an left.
Thank god for that because i bearly made it for 8:30 Pore old CHarlyT was only coming 40miles and he didn't make it at all
. The traffic was appalling.
So with three divers missing six intrepid explorers were left
JP Taylor
Iani
ScubaJ
Howard
Nigel
and Me
The sea was less than calm as we set off, a good 2m swell all around us but somehow Steve's new boat made light of it and we settled in for the two and a half hour journey to the Seaford Ferry.
I had a great chat with ScubaJay on the way out and was highly amused when told that Jay felt it was a big dive but of course a 48m dive was nothing for me
I informed Jay that only a few years ago (2002 I looked it up) I puked on the way out to do the Moldavia as i was so nervous about doing my first 50m dive
Howard was to be my buddy and he had put down on the list for a 90min run time which surprised me a bit but I went with it anyway. Steve said he was happy to let us extend it a bit if we liked.
We hit the water second and i had a bit of a problem. My torch cable was caught on something and i couldn't use my right arm fully so i was struggling to get down the shot. The tide was still running a bit so that didn't help. I got a red light on my new HUD so i went for the 02 inject but I over did it so it was now going mad as i spiked the 02 badly. Then I overdid the dill flush so it dropped too far so i injected 02 and spiked it again. Christ i was making a right hash of the decent.
Finally on the wreck and I let Howard lead the way while i sorted out my PP02. Viz wasn't bad. maybe 5-6m with a fair bit of clumpy plankton string but more than doable. The Seaford Ferry was more broken up than i had expected but the mid section where the boilers stood was still intact and a couple of promising penetration points were on offer.
I was tempted to crawl over the boiler to see if there were any nice gage's at the other end but I was coughing a lot and suffering indigestion heart burn so i decided to keep it simple. Howard seemed happy too as it was a bit of a squeeze to get down.
We content ourselves with studying the beautiful anemones and corrals on the wreck. It is definitely a pretty dive. I wish my wife would do a 48m wreck as id love to show her just how good a UK dive can be. The fish were prolific. At one point w had a wall of Pollock beside us so dense you couldn't see through it. There were also two of the most lovely co-co wrasse (SP) and i spotted a ling in one of the dark recess's of the boiler room.
Howard led us on a circuit of the boilers spotting a small lobster for me to have as a peace offering for Ling. This was quickly bagged. We went over loads of broken china and an intact toilet just stood there looking somewhat out of place on the deck. Howard was obviously very impressed with his first circuit so he did it again
I was sure we had passed this bit before and once again reaching the toilet was final confirmation that Howard's navigation skills were almost as bad as my own.
Howard signaled the bag and sadly with 45mins showing it was time to go. A bit of faf with Howard's SMB slowed leaving the bottom a bit but we were soon on the way to deco. My indigestion was pretty bad by now so i tended to keep heads up to keep the bile down (lovely image). Howard on the other hand demoed his lovely flat deco ascent which i have to say was looking pretty good. The bugger had all his bailout deco stages on the left and is doing perfect ascents, he's obviously going to those DIR puddles far too often
Howard's VR3 had a totally different ascent to my own so we just did who's ever stop was showing now. I managed to make a right hash of the PP02 on the ascent again which was damed annoying an in the end my 10/85GF cleared with Howard showing another 8mins.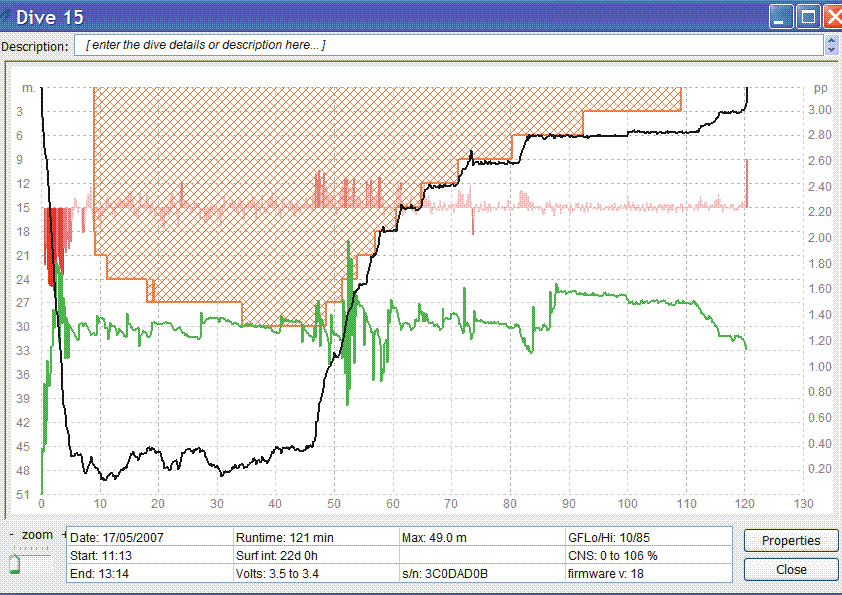 Getting back on the boat was a bit of an adventure. The lift platform was going from just above the surface to 5ft under water every two seconds so getting the timing right was pretty important.
Back on board with 120mins on the clock and Steve just shook his head and didn't even bother telling us off
. Mind you he had caught a very nice cod whilst we were diving so he was in high spirits. Howard decided that being so cool on deco was spoiling his image so he went arse over tit on the boat in full kit just to regain some comedy status
Every one seemed to have had a great dive. I for one will be doing this wreck again and next time ill have a crack at getting up past those boilers.
A dive that wasn't supposed to happen is a sweet dive and this one was sweeter than most.
Nice one Howard thanks for arranging it.
ATB
Mark Chase