Discussion Starter
·
#1
·
Ok then, I'll try and split this up to save bandwidth or ozone or something.
I know it's been done to death, but if anyone has an insomnia problem, here's my account of my first ever week in Sharm. I'd been looking forward to this for ages, and it lived up to the expectations.
First diving holiday sort of, although Mrs endo and two small endo's came along as well.
We were at the Hyatt in Sharm and it was an outstanding hotel. I had pre booked diving through their on site Red Sea Waterworld a branch of Red Sea College, and after I took my kit down first morning put it in a box, I never had to worry about it again.
First day onto boat and find a cylinder and get kitted up. Boat left jetty at Naama bay and it wasn't too busy really. Found a seat upstairs, and listened to a dive brief in French! This being my first time I ventured into the smoky downstairs, smoke from divers not the engine, and found some Brits. I was assured there would be an English brief later so I went back upstairs and tucked into more water.
Got the brief in English from a French guide who was to be my buddy. I explained I had done mainly UK diving, and was unsure about my weighting etc, and I could only find an Ali 80 tank and not the Steel 15 I had requested. Any way we jumped in, Ras Katy was the site, two other boats there, and I was back to the boat for a bit more lead. Once I could sink we were descending, I was expecting a nice gentle bimble to get used to things, but we were straight down to 30 metres! Deepest I had been before was 23. Plus I knew there was no bottom, so I was pretty awe struck with it all.
Was nice to be in warm water, and the vis and life was amazing, saw a blue spotted ray and lots of parrot fish. Started a gentle ascent after about 15 mins, ( was on nitrox) and was soon aware that I was guzzling air! No drama but I slowly ascended over the next 15 minutes and did a safety stop for a total dive time of 37 minutes. Back up the ladder, which wasn't as bad as I was expecting, and found a couple of guys with twindies on the boat who had been doing a deep dive but had inflator bother and were cobbling together a repair. Seems like I was the baby in the group of Brits.
Lunch next then off back to Naama to drop off / collect others and I got a 15 L onloaded.
Went to Fiddle Garden next, and I felt a lot comfier with the steel tank dropped a bit of weight, and managed a nice 64 minute dive this time. Saw a huge Moray which nearly swam into the dive guide, and made an insta / underwater buddy as others ran low on air. Did a weight check at end and dropped 2 K more for next day.
Left box on boat, got bus back to hotel, went to pool etc etc. The box would be moved to the correct boat or back to the hotel depending on where I was the next day, I was amazed that nothing went wrong with this, but there seemed to be method in the madness.
Next day similar, but dived with the same buddy as in the afternoon which was nice, both dives saw the guides having to use their octos to people low on air. One was a German bloke with a huge video rig who was smashing into coral all over the place and had no idea how much air he had as his gauge was bust. Different guide to today, Scottish chap, Frankie, quite a character as I'm sure some here will know. We had some interesting hand signals to describe Jorgen. Took camera out for first time in afternoon, it's not that easy is it
Both dives around 55 minutes.
Rave On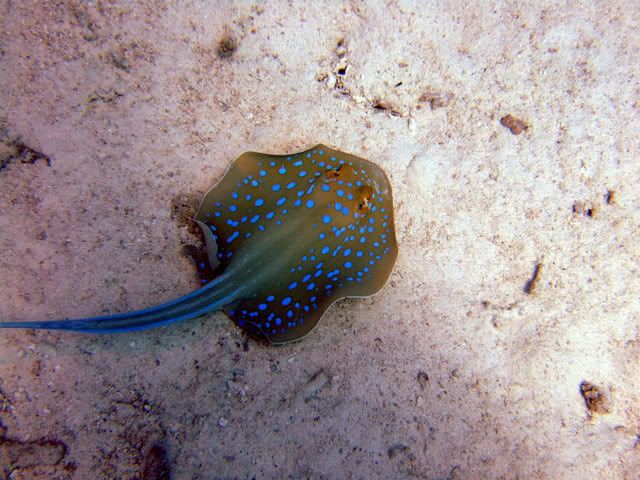 Frankie and Jorgen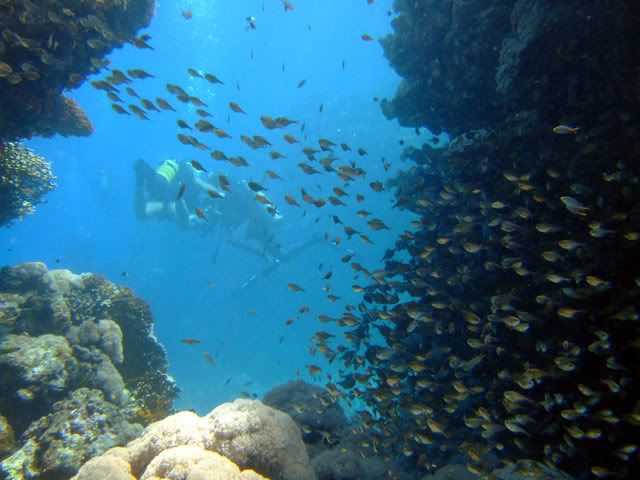 Near Garden