Discussion Starter
·
#1
·
Imported post
I ordered the Sherwood Avid snorkel a few weeks ago, and it arrived on Tuesday. Gave it a go in the pool yesterday, thought I'd give a bit of feedback on it.
It's one of the ones I say are worth looking into in my novice's buying guide, on the grounds that it's a fold-up one, and therefore can be carried unobtrusively in a pocket. My heart dropped when it was delivered in a box about 12x4x5 inches that I had to collect from the PO as it wouldn't fit through my letter box.
On opening, it turned out to be a large box filled with polystyrene, in which I eventually located the snorkel. Which turns out to be a mere six inches long when compact.
The main reason this snorkel is so tiny is that it has both hard plastic tuby parts and a collapsible flexible part, a bit like a corrugated hose. Here's the diagram: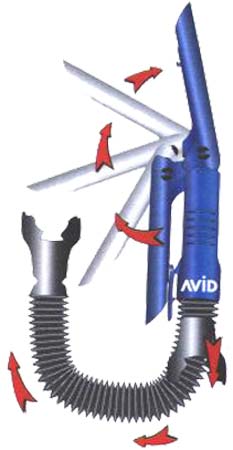 Some review or other said it was fine for surface use but impossible to clear if used for underwater snorkelling. Which was fine by me since I wanted to take it scuba diving, ie surface use only.
So I was happy to find that it was actually no problem to clear the standard way - perhaps the (american) reviewer didn't know how to clear a snorkel..?
Either way, I have to say it's one of the most comfortable snorkels I've ever tried. The collapsible part is so thin it's virtually weightless in the mouth, and it can be adjusted perfectly to go exactly where your mouth is - my more standard snorkel does have a flexible bit, but it's so thick it has a tendency to try pull itself straight, and therefore out of your mouth.
So whilst I was expecting a compromise on comfort for a convenient snorkel to have living in a pocket, I have to say that, if anything, by making it collapsible, they've made it more comfortable. I'll almost certainly be using it for snorkelling as well as taking it along on scuba dives.
And then there was the pool toy. Now, I've had one of these for years, but I bought another one last weekend. The first one I bought was this one:
and the newer one is a red and yellow one.
The amazingly clever and simple way it works is, the 'body' is a closed-cell foam that's very bouyant, and the wing is a slightly negative flat surface. So the foam tries to pull it up, but the wing creates so much drag that the 'up' is turned mostly into 'along'
And the other cunning thing is, the body can be slid along the wing, and therefore it's steerable. More wing on one side = more drag on that side, so if you have the body on the right, the toy will curve to the left. Which is handy, as you can set it to go in a circle and come back to you.
The main thing I use it for is try dives, when you've run out of simple things to show your novices but don't have time to teach them anything new. A quick ten minutes trying to catch a self-propelled grinning ray goes down well. It also hammers home the point we try to make in lectures, that things aren't quite where they seem underwater due to diffraction - it's not uncommon for sudden grabs to miss completely because they don't know quite where it is
It can also be a good way of proving how much more effective their finning would be if they did it the way you told them - set the thing to go in a straight line and then lazily overtake them as they work flat out to try and catch it  
Someday, I swear I'll get one into open water, so if you see a large toothy grin heading towards you at the 6m shelf at Stoney one day, don't panic, just look for a nutter with a red wing and white twin 7s