·
DUE CEO, Booking agent, Coffee maker & Dogsbody...
SS El de Bayo and HMT Drumtochety – Dover Tue 24 April
After some poor viz reports over the last week or so 11 of us met up at Dover Marina to go out in some fantastic weather and look for a good target wreck with some viz, while we got ready to go Trebor realised he was missing his Undersuit, then while scrounging bits he managed to forget his weightbelt, meanwhile Chasey was pondering how he was going to fit into his old drysuit as his repaired one had not arrived.
Out we went but as there was a sea haze this meant we had to stay away from the lanes so we headed up the East side of the Goodwin Sands till we had some viz and a nice target in the El de Bayo, this is a very big and intact wreck with the decks at a nice 32-33m which I had dived for the first time last year in a very nice 10+m of light viz.
Formally the Urania (That's what the bell says) this 2058 Ton Steel Steamship built in 1896 by Craig Taylor & Co of Stockton was sailing from Huelva to Rotterdam with a cargo of Iron Ore when she was struck near the engine room by the Liner SS Westmorland in dense fog off the South Goodwin's. She was so badly damaged she soon filled up and sank in 2 minuets. The Captain and 4 hands being sucked down with her and drowned.
Diving
This is a big and intact wreck with the bulk from the bow back to the break from the collision upright and intact standing 6m proud in a general depth of 38m dropping to 41m in the scour by the bow. The decks are at 32m and very clean of obstructions with the open holds and several masts and spars lying across and off the decks. The forward hold is quite empty and the bow is broken off allowing you to swim out of here and look down at the broken up bow section. There is a hole in the chalk seabed where the bow would have struck it.
The rear of the main section has a bulkhead intact giving it a very square break profile, you can follow the debris including the prop shafts back to the broken off stern section which would be a reasonable dive on its own.
The Dive
Dave had the shot in and we started to kit up, Chasey got through a LOT of KY Gel getting into his suit, GBH stayed attached to the bench then once released had his torch pack up so Mr Torch himself, Gizmo, lent him a spare and Captain Deco decided me and Chasey were taking too long so jumped in only to return a few minuets later to ask in a high pitched voice if anyone could connect his suit hose.
So down we went, there was a lot of plankton from the surface to about 9m but it then cleared up and we hit the wreck at 38m in the pitch black but with a nice 4-5m of viz in our torches. It was immediately apparent that the shot was inside the wreck as we had dropped into the forward hold and were surrounded by metal.
Up onto the deck we went with me reeling off and Chasey and Captain Deco in a loose Clusterfcuk formation, along the decks we went having a good rummage, the viz was great for concentrating your attention, Jay waved a top quality porthole at me but I convinced him it was a toilet seat and we binned it, moving on we got towards the stern break and while here Jay realised he was on 21% to my 29% and Marks 1.1 setpoint on his KISS Rebreather so set off back ahead of us.
Me and Mark finally decided to head back for me to meet Chunderfish who showed me a Reserve Gas Signal, which apparently is some Yank Cave Troll signal for " Stop there, we are using your line, and want some more time before you reel it in"
After a suitable pause while I watched my stops click up a bit more we headed off back to find everyone else but 501 Diver had gone, so up I went, while Chasey chased a last Lobster.
A very good dive with 40 min of bottom time and a routine 24 min of assent and stops using 29% Backgas and 52% Deco Gas in 10 Degrees water.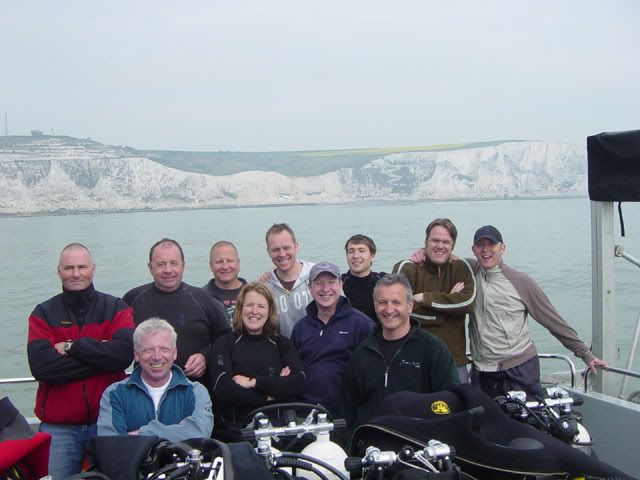 Back Row - GBH, Paul Oliver, Madscuba, Captain Deco, Desperation, Trebor, Dovershark
Front - Mark Chase, Chunderfish, Gizmo, G Wizz.
Dive 2 – HMT Drumtochety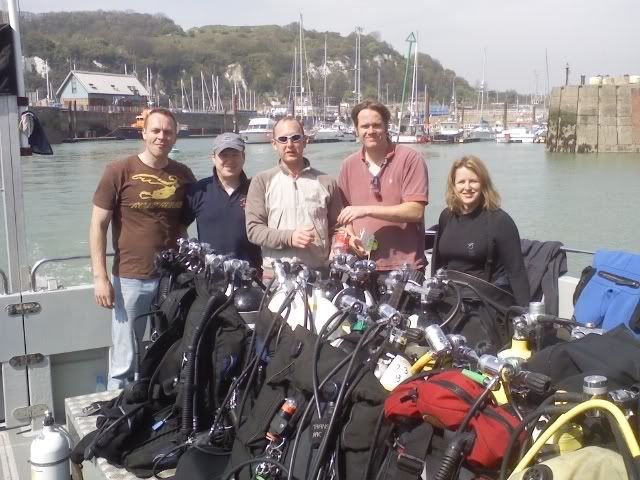 Captain Deco, Gizmo, Dovershark, Trebor, Chunderfish
Back to Dover we went for a very nice lunch before meeting again for Dive 2, we went out Viz hunting and our first target looked quite murky so we pushed out to the edge of the lanes and HMT Drumtochety an Armed Trawler of the Dover Patrol that sank after striking a mine on 29 Jan 1918.
Dovershark and Captain Deco Viz hunting
Slack was very late, the sun was up and we had a 5 hour surface interval, the plankton was thick again but below 10m it cleared up and we landed on the wreck to a very nice 5m of Dark Viz. This wreck is very upright, intact and proud in 35m, Jay reeled off and was straight into the holds, I generally floated around above the holds looking in and we had a very nice look around.
The wreck is a bit small for 10 Divers but we managed to untangle each others lines and all had a cracking 2nd dive. For me this was 34 min to a max of 31m in 11 Degrees water with only a safety stop to do.
Dovershark realises that having lent Rob his Undersuit trousers Rob always goes Commando
mg:
A rather excellent days diving.