·
A short fat well off crap cave diver. Likes wrecks
The Delta Diaries, A couple of good wrecks and a few cock-up's.
Dive1
Surprisingly, I had to wait till the 7pm forecast to see if the dive was on. I had been told to prepare for a deep one with the wreck apparently at 75m. I was having fun with my mini-booster so the 16/50 I had managed to cobble together would have to make do.
5am leave and a cruse down to Little Hampton to be told its probably going to be a little rough so we canned the plan and were going to have a look at the Donegal in 50m. If the viz is no good we would move on to the German wreck in 65
Ho hum, thank God for the flexibility of CCR.
As it turned out the worst we faced were waves of about a foot so I think Ian McGaskle did the forecast
Today I was to meet Dave R for the first time, A Portsmouth based diver on a KISS unit. Dave was a DIR diver way back in the early days but he's since moved on to diving a Sports KISS. I asked him why? He said the gas cost of OC and deep wrecks just didn't work so they couldn't fill the boats. I liked him instantly
His tanks were marked up with his initials DIR which I found most amusing. Do you think he's the only diver ever to go DIR because his name tags matched
Dave mid pic.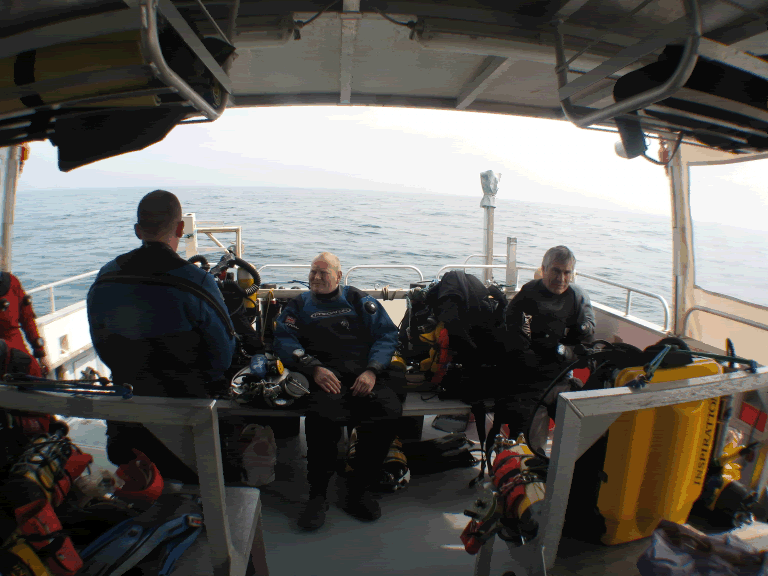 The viz on the Donegal looked doable so we settled in to wait for slack water.
Dave agreed to lay the line and I was going to take pics but the day was badly overcast and viz on the Donegal is usually poor due to its location near a river estuary, so in the end I changed my mind. I should have opted to lay the line today but I didn't and this was going to cost me tomorrow
The Donegal was built in 1885 and sunk by torpedo via UC21 in 1917 with the loss of 11 soles. At the time she was in service as a hospital ship.
Dave and I dropped in third to find 5-6m of viz with stringy plankton clumps. All in all very doable. We mozied along up to the bow having a good look see and I found a nice 4-5lb lobster for the wife God and wasted no time bagging it up. We found the chain locker and to the right I found a monster valve looking thing. It was bell shaped with a knob on one end and a cut out showing the internals. It looked really interesting and it looked to be brass but I decided it was too big a task and I wasn't sure what the hell I would do with it anyway so I left it.
Dave pulled out his trusty DIR mini knife from the webbing sheath to cut the guide line and I laughed my arse off when he emerged with just a handle as the blade fell off.
I got my knife out and cut the line for him and we headed back to the shot. On rout I found the kitchen. There were four or five massive pots. It amused me to think they could be copper and worth the tight squeeze in to grab one but the squeeze was a little too tight and my desire was not strong enough to spur me on to more wiggling. Then at the last I found a massive porthole. It must have been 600-800mm across with intact glass and brass backed. It looked gettable and I had a quick go but we were out of bottom time and I was aware Dave was on tables so I didn't want to mess up his plan on our first dive so I made a good mental note of where it was and left it for next time.
Deco was deco and we headed home on flat sea and in warm sunshine. It was a pleasure to dive with Dave he just did everything the way I like it. Nice and slow and predictable.
I followed Dave's deep stops to stay in touch which added 9 mins to my overall time. Hears the graph for anyone whos interested.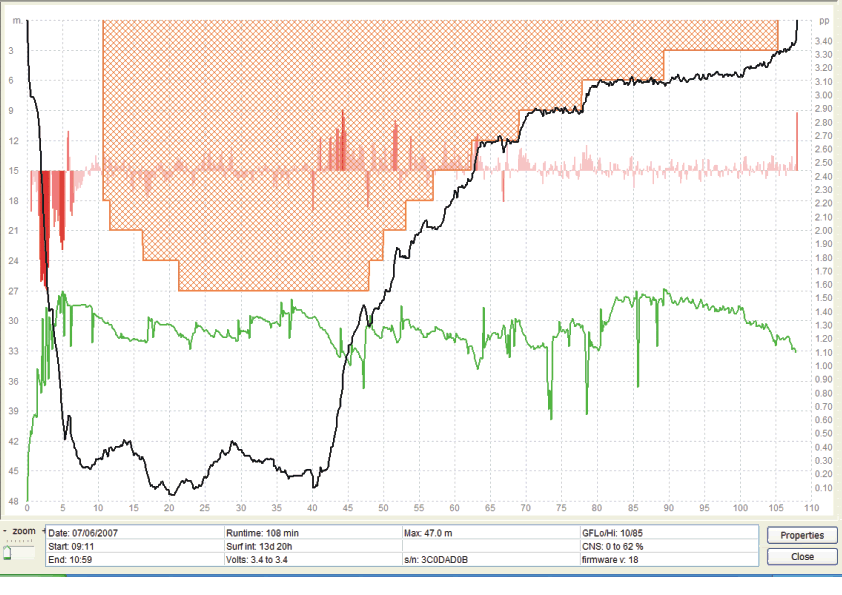 Tomorrows wreck sounded really interesting. The Doctor was all excited about it which is a good sign
ATB
Mark Chase