·
YDs Most Southerly Monkey
(Apologies to SteveChesh and Copperband who've already been PMed with this.)
Well unlike you back in Blighty, the vis here was great this weekend, 20-25M where I dived.
I'm sorry to say thoughthat my diving was a bit disappointing.
I'd planned to go on a dive with the club, over to Maria Island but a private job came up at the last minute, down the Tasman Peninsula, at Port Arthur , meeting them at 1.00pm, so I decided to do a single dive with Eaglehawk Dive Centre which is "on the way".
They buddied me with a husband & wife in their 50s; a nice couple but dive planning wasn't their forte and he was very non-committal. The idea was to dive Horseshoe Cave, which I've done once before; he also said he'd been in there before too. No buddy check, I had to get the dive boat operator to check me over.
If you look at the video, we were basically entering in the opposite direction to the movie.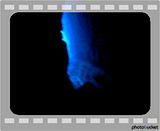 Anyway, so we hit the water and they are off like a pair of whippets, no hand signals, completely ignored me, straight down to the bottom, bang and then off towards the entrance, me with my 15L + 4L pony. Once we got in there, it was pretty surgey, finning quite hard to hold station as it was going out. So this bloke is out in front and his wife behind him, he's not looking round, no signals, no communication, by which time I'm feeling distinctly unhappy.
We get to the back of the cavern, where there's a 90 degree right turn, which takes you back towards the base of the cliff and out of the alternate entrance. Suddenly, just as we'd reached the turning, they both whiz back past me, him holding her upper arm, without such as a "by your leave", or any form of signal. I thought, "shit, she's got a problem", so I tag on and follow them out.
Once out at the base of the cliffs, it's a very jumbled landscape of boulder falls (as big as buses), all covered in kelp, with fantastic hidey holes and swim throughs underneath
but despite all this, they just continue on their merry way, still at speed and never looking around, her trailing him by around 7 or 8 metres, me, initially, probably 6 metres behind her. And then they're off, just left me to it, so I continued as a solo dive and met up with them, quite by accident on the 5 at 5.
It was bad enough leaving me to my own devices but I observed throughout that this bloke rarely looked back to his wife and was a long way ahead of her, neither had a pony and if she'd gone OOA for whatever reason, she'd have had far more chance of me coming to help her, he'd have been nowhere until after the event.
Back in the boat, I asked what the problem was in the Horseshoe, "no problem, I just couldn't find the passageway" he says. "Oh, nice of you to tell me we were leaving then", said I. Funny look.
Trouble is, it ruined the whole dive for me. as you'll appreciate, poking around in an overhead environment like that can be a bit stressful, so I like to think there's some safety in being accompanied by people by who's conduct, you can reasonably form an opinion that they are reliable. Last time I was through there was with regular dive club buddies, dependable sorts of people; no one was going to get left behind or ignored, our signals were good, everyone knew how everyone else was travelling and it was an enjoyable dive, still a little bit stressful, I don't mind admitting but that's why we do it..
Cut to yesterday and these two, me not being filled with confidence in either of them, the whole thing was a bit of a trial, I was on edge and it took on a completely different aspect, I felt quite threatened and I was really glad to get out of there, I was really uneasy with them, so the whole thing was just ruined for me, blew out the whole dive. I was actually quite relieved to see their bubbles receding into the blue, I felt no responsibility towards either of them and was glad to be alone.
Unfuckingbelievable eh. But I have to say, it's par for the course in this part of the world, it happens so often, I don't know why it surprises me anymore.
I didn't say anything more, no point in getting involved in a bust-up, Tassie is very small, no point in making too many enemies.
However, I bumped into the Dive Centre operator later in the day outside the local Bakery and told him of my concerns….he was very surprised as he said he'd knowen them for years and they were both very experienced divers.
For me though, the whole dive was ruined, I just came home feeling incredibly negative about it.
I know this is to be expected when you're third wheel but I've never had it quite this bad before.