·
Don't feel blue, think pink!
Discussion Starter
·
#1
·
Some YDers may already know that I am very new to diving. Most of my training (I am now a Sports Diver) has been at Vobster, or shallow dives in Torbay and Plymouth, all of which I have greatly enjoyed. My post-dive enthusiasm has always been met with a wry little smile from Frosty, which had me puzzled..... until now!
We went with three members of our club to Penzance for a couple of days this week. The weather was perfect - warm, sunny and the sea was calm: at least to start with! On the first day we dived the Runnelstone, which is a magnificent rock pinnacle close to Land's End. The trip could not have started better, as we were accompanied by two very friendly dolphins!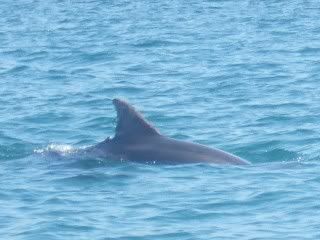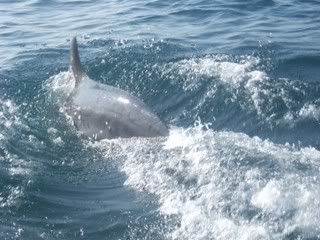 In 12 metre vis, we drifted down huge anemone-encrusted walls. There was a shoal of horse mackerel, loads of enormous urchins, several species of crabs and cotton spinners. This may sound routine to some YDers, but with less than 20 dives under my belt, this was a whole new world to me. We also saw a beautifully preserved anchor - sorry the following photos are rather green, but the flash wasn't on!
The first dive of day two was The Bucks, which we dived out of Lamorna Cove. Again the vis was 10-12 metres and if anything, the life was even more prolific on this site, and in my view better than the Runnelstone. There were walls encrusted with plumose anemones and dead men's fingers, dogfish, and large starfish.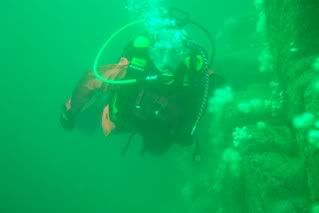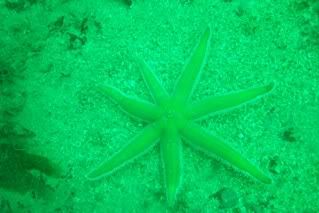 We called into Lamorna for lunch, before setting out again to dive the SS Lincoln, a 624 ton schooner rigged steamship which sank in 1886. Vis was similar to the other dives, but there was a distinct green layer through which we descended, which made us wonder whether the plankton may bloom early this year. On this site there were a lot of wrasse and spider crabs, with lots of flattened broken wreckage lying amongst the boulders. This was my first wreck dive, and I can't wait to do more!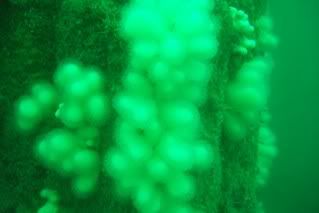 These dives have truly changed my life. All I want to do now is dive, dive, dive! I know it isn't always going to be as good as this, but I will never feel quite the same about Vobster. Many thanks to Phil, Chris and Debbie, who were great company, as always, and who were tremendously helpful and friendly. Last, but definitely not least, thanks to my lovely Frosty, who guided me through these sites and put up with me pointing at everything and making shrieking noises through my reg.